Quality Policy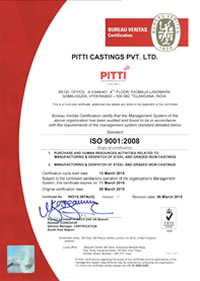 We, at Pitti Castings Private Limited, Manufacture and supply of steel, graded iron castings are committed to enhance the customer satisfaction pursuing excellence through continual improvement in all spheres of operations and to distinguish ourselves by the quality of our products and services.
We shall also be committed to adopt good management practices based on international standards on management systems which lead to achieve operational efficiency by attaining better productivity and profitability through employee involvement and training.
Quality Assurance
Material
SHIMADZU emission Spectrometer (with 17 Elements including nitrogen)
Sand Testing Facilities
Universal Tensile Testing Machine
Image Analyzer
Dimensional
Co-ordinate Measuring Machine (CNC-CMM)
Digital Height Gauge
All kinds of Inspection Gauges & Instruments
NDT
Radiography Test ( X-ray )
Ultrasonic Test
Magnetic Flux
DP Test
All the Inspection Equipments, Gauges & Instruments are calibrated in NABL accredited Metrology labs as per calibration frequency.