Foundry
Infrastructure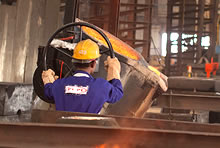 Pitti Castings (P) Ltd has a production shed of 17000 Sq meters. It is also integrated with "No Bake" Molding System from IMF-Italy ( Furan for Iron & Alphaset for Steel ), In-house Shot Blasting, Grit Blasting, Heat Treatment & Fettling Facilities, NDT, LPG Bullet Station and Standby Generator. There is also an In-house LPG storage facility available to operate various equipments. With 2 bullets, the capacity of the Bullet is 7.4 MT each.
↑ Top
Installed Capacity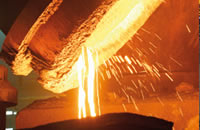 Pitti Castings having installed capacity of 1200 MT/month of Iron and 600 MT/month of Steel Castings.
Melting
Pitti Castings is equipped with 2750 KW Medium Frequency Induction Furnace - 4.0 MT melting capacity with 2 Crucibles & 1800 KW Frequency Induction Furnace 3.0 MT capacity with 2 cruicibles. Wet scrubber with 30M height Stack is installed for fumes collection from the crucibles with swivel hood attachment, besides multiple Laddle Pre- Heaters.
↑ Top
Moulding
Continuous Mixer T36/50-S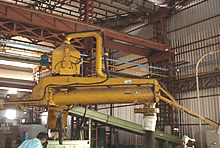 IMF make Double arm Continuous mixer, type T36/50-S for a delivery of 50 MT/Hr of chemically bonded sand ( Furan ) for Iron Casting Production & 30 MT/Hr ( Alphaset ) sand mixer for Steel Casting Production.. The Sand feeding system for two different types of inlet sand is according to the following combinations
100% New sand
100% Reclaimed sand
Blend of New and Reclaimed sand
↑ Top
CATA 2 is a software program for mould setting times acting on catalyst feeding during the mixing process. CATA 2 balances the inlet of two catalysts with different strength according to sand temperature. ACCU PUMP is a software program to maintain and guarantee a constant flow of binders in to the mixing trough.
Fast Loop Moulding Area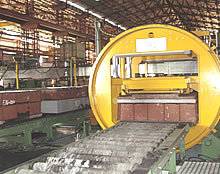 Fast Loop Moulding Area is a completely automated for Furan Moulding, PLC controlled "NO BAKE" Molding System, supplied by M/S IMF Italy, consists of Fast loop powerized roller conveyors, vibrating compaction table, transfer cars, orthogonal turn table and Roll over Stripping machine, Pre-Drying of mould before painting by Electrical Infra-red oven, Guided handler manipulating painting station, Gas fired post drying oven and a crane suspended manipulator for closing the moulds. Alphaset Hand moulding is semi-Automized.
↑ Top
Type of system - FAST LOOP
Mould maximum size (W x L x h/h) -1600 x 1800 x 550/550 mm
Production rate - 8 to 10 moulds/hour
Number of bolsters plates - 10
Bolster plate dimensions (W X L) - 1600 x 2000mm
Roll over - RB2750
Painting - Guided handler
Type of paint - Water based
Drying oven - (Pre) - Infra-red
Drying oven - (Post) - Gas fired
Closing station - Manual Hydraulic handler
Infra-Red Drying Oven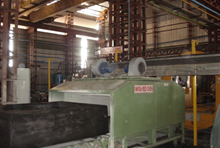 Infra-red drying oven is used to dry the mould after stripping. The infra-red radiation is produced by special short wave infra-red (SWIR) emitters. The power of the emitters in the oven can be varied instantaneously and the radiation timing can be changed according to the type of mould.
↑ Top
Mould Painting Station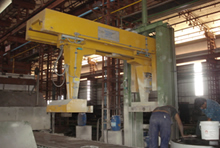 The Mould Painting Station consists of a Guide handler manipulator that picks up the flask/ mould from the belt conveyor, lifts, rotates, moves it sideways to present in front of the operator. All movements are operated by hydraulic. The manipulator is equipped with a special type of clamp to handle both flask and mould.
Mould Drying Oven - (LPG Operated)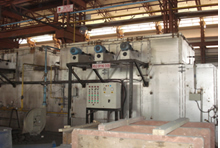 The Drying tunnel of mould, drying operation is performed by forced hot air circulation inside the oven. The air flow generated by a set of fans is heated by means of a heat exchanger powered by a Gas fired burner. This machine is equipped with pneumatically operated partially closed doors.
↑ Top
Closing Station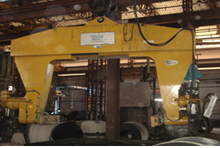 In the Manual mould handler type MM1800, the handler is composed of two arms moving along in the upper structure. Closing is obtained by means of a hydraulic cylinder. Holding clamp with articulated joints are incorporated on the ends of the two arms to match the mould shape.
Pouring & Cooling Line
This pouring line is an automatic PLC operated line consisting of Gravity flanged wheel roller track with Powered transfer cars on both ends to transfer the mould from closing station to pouring and cooling line and also to transfer the poured mould to shake out. The Cast iron pouring plates are placed on the pouring track, to carry the mould.
Shake out with Sound Proof Cabin
The Shake out designed to break the NO- Bake moulds complete with pre-reclaimer and vibrating cells
Grid size - 2500X3600mm
Maximum loading capacity -11000 Kgs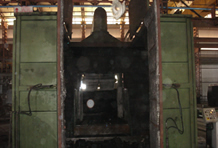 The Sound proof cabin is enclosed with shake out, and doors are also provided at top and front side operated by hydraulic to avoid the noise. A dust collector is connected with Shake out, to collect the dust generated inside the shake out whilst in operation.
↑ Top
Sand Storage Silos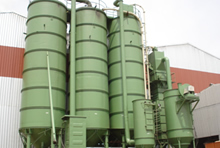 The Reclamation Plant consists of scrubbing unit, Sleeve type filter, Vibrating grid, Surge hopper, cooler, and cooling tower connected with Pump. The Scrubbing unit fan creates an air flow for fluidization, the fines generated by the scrubbing unit are conveyed and collected by the sleeve filter and sand again enters into the vibrating grid and the sand screening and elimination of debris. After that, this sand enters into the sand cooler to cool the sand for set temperature and finally goes to the silo through the propulsor. The Reclamation Plant capacity is 15-20 Tonnes/hour.( Each one for Iron and Steel )
Thermal Reclamation capacity of 5 MT / Hour for Furan Production Line.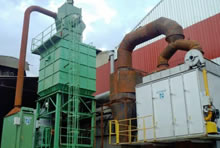 In view of reducing the carbon foot print, Pitti has installed Thermal Reclamation plant of 5 MT/hour supplied by IMF, Italy. By use of this the foundry has been reducing its CFP by 95%.
Sand Storage
The Sand silo is manufactured according to the safety standards, complete with access catwalk ladder, barrier, inspection door, and security discharge outlets. The Storing of New, Reclaimed and to be Reclaimed sand is separately done by the individual three silos. The Capacity of each silo is 100m3
Sand Drier - Rotary Type Sand Dryer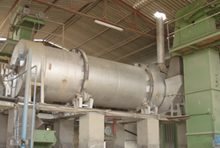 The Fuel source by LPG, with 5 MT/Hr drying washed silica sand of grain size AFS 40 – 45 is accomplished with belt conveyors and bucket elevator to load the sand and thereby the dried sand is pneumatically transported to storage silo's, Mould & Core making areas.
Core Production
↑ Top
Continuous Mixer T36/8-E with Silo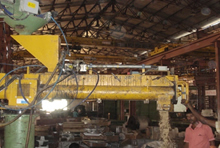 There is a simplified high speed single arm Continuous mixer for a production of 8 tons/hour ( Iron ) and 6 tons/hour ( Steel ) of chemically bonded sand. The Sand feeding system for two different types of inlet sand is according to the following combinations
100% New sand
100% Reclaimed sand
Blend of new and reclaimed sand
An electronic control system presets 3 different pump speeds for different combinations of sand and binders. The system is complete with digital display.
Core SHOOTERS (COLD BOX PROCESS): COLD BOX CORE SHOOTER - 5 KG
PLC Controlled Cold Box with 5 & 30 Kg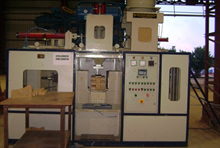 Magazine capacity for additional Core requirements
Max. Core box size - 400x300x300mm
Max. Weight of core - 5 Kgs
Blow area - 50x350mm
Sand magazine capacity - 10 Kgs.
Sand hopper capacity - 60 Kgs.
COLD BOX CORE SHOOTER - 30 KG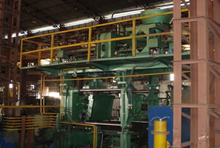 Max. Weight of core - 30 Kgs
Sand magazine capacity - 50 Kgs.
Sand hopper capacity - 100 Kgs.
↑ Top
Core Drying Oven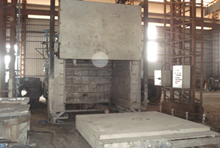 The Core drying oven is operated by LPG fired KROSCHREDER Burner. This is an enclosure type fitted with front side sliding door and a moving trolley. The maximum operating Temperature is 250 degree C.
Shot Blasting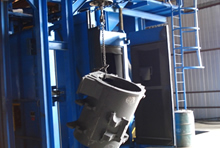 Pitti Castings is integrated with PLC Controlled Shot Blasting Machines of 3 MT ( 2 nos) and 1 MT ( 1 no ) Capacity with Slinger Hanger type. All castings will be Rough Shot Blasted & Finish Blasted.
Finishing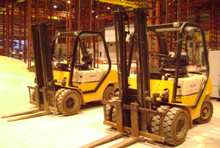 There is a separate shed for grinding, Welding & finishing Operations. The entire shed is equipped with EOT cranes for easy transfer of castings to next phase of activity. We also have an exclusive Fork Lifts for transfer of castings. Some of the fettling tools include Swing Frame Grinders, Angle Grinders, Straight High Powered Grinders, Welding and Gouging Rectifiers, etc.
↑ Top
Heat Treatment Furnace
There is a PLC Controlled Furnaces of 10 MT Capacity ( 2 nos ) which is Bell Type & Movable Chamber fitted with Kromeschrodher. There is also a Burner and Auto generated plotter to monitor HT Cycle.
Capacity of the Furnace - 10 MT – 2 nos ( Bell Type & Chamber Movable Type )
Type - Belt and movable
Fuel - LPG
Power & Fuel Supply
LPG Unit
Pitti Castings is integrated with LPG Bullet Station by total gas with 2 Bullets each of capacity 7.4 tons to cater to the fuel requirements of various stations.
Air Compressors
Pitti Castings is duly equipped with Air Cool Silenced Screw Air Compressors which are capable of delivering air at 7.5 Bar to the various stations in the plant.

Genset
A standby Generator of CUMMINS 400 KW/500KVA ( 2 nos ) powers the whole plant and is sufficient to operate most of the plant's machineries during power interruptions.
High Tension Electric lines
The Pitti Castings Plant is fed by electrical supply by 33 KV High Tension Route as per schedule of requirement.
In-house Pattern Maintenance
Some of our In-house pattern facilities include match plate mounting, method and repairing of pattern. Also, we are also equipped with 3D CMM (ELECTRONIC DIGITAL) to inspect Pattern and Raw Casting dimensions.
↑ Top